Dungy Says Rams, Bucs Are Breakthrough Teams
June 19th, 2014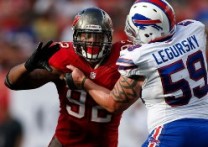 When the Rams and Buccaneers meet in Week 2, Derrick Brooks Day at the Stadium on Dale Mabry Highway, it could be a critical clash for an eventual playoff tiebreaker in the NFC.
That's not Joe's opinion, but the thoughts of Father Dungy.
Dungy took to the SiriusXM NFL Radio airwaves this week and talked about a few teams he sees reviving and breaking through into the NFL's January party. Dungy was asked about the entire league, but only mentioned three NFC teams.
Atop Dungy's list was St. Louis.
"The Rams are putting together a defense that I think is going to be able to compete [with the NFL elite,] Dungy said.

"I think you're going to see Tampa play a lot better. I've been out to a couple of practices and I've just seen the energy under Lovie Smith. And they've got some talented people there, too. So I like Tampa and St. Louis as kind of dark horses.
Joe was pleased to hear that, but Joe was sent scurrying for Tums when Dungy also said "the NFC is going to be tougher" and he predicted a New Orleans Saints resurgence, despite their 11-5 record last season.
As Joe's referenced previously, the Bucs face two nasty defenses in Weeks 1 (Carolina) and 2, defenses that a brand new offense with a brand new coordinator should struggle against.
That "shocking" creativity of Jeff Tedford and the leadership of Josh McCown will be tested to the extreme early.