Mike Evans Yacked
May 16th, 2014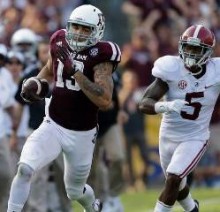 For wide receivers, especially now with rookie stud Mike Evans on board, the offense of the Bucs will be all about the YAC.
Unfortunately today for Evans, it began with the yack. As in tossing his lunch. Loosing it. Ralphing.
It was an unusually cool, yet bright, sunshiny mid-May afternoon in west-central Florida, and Evans threw up during conditioning drills. Just tossed.
He offered that he isn't in shape yet, which will change. It better.
Evans is from Galveston, Tex., on the gulf coast just south of Houston, where in the summertime, it is equally as humid as Florida and quite possibly hotter.
What amazed Joe is that even after heaving, Evans was without question a man among boys with his fellow rookies, even making a circus one-handed catch.
Joe isn't worried about Evans getting used to Florida weather. He is used to the same weather back home. And if, after vomiting, he was able to dominate like he did today (granted, no pads; practicing in underwear), Evans will be just fine.