Jeff Tedford's Offense? "Movement."
May 16th, 2014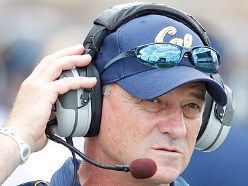 Bucs players are under strict orders not to remove the tarp that shrouds the Jeff Tedford offense. Don't reveal state secrets, lest the NKVD will visit you.
This didn't stop Joe from prying.
In college, Bucs rookie running back Charles Sims played for a high-octane, in some ways revolutionary offense under West Virginia wizard Dan Holgorsen. The Bucs, as center Evan Dietrich-Smith stated on SiriusXM NFL Radio, will play "up-tempo." Starting quarterback Josh McCown even evoked comparisons to Chip Kelly.
When Joe had a chance to ask Sims his impressions of the Bucs' offense versus the Mountaineers', Sims said it has similarities.
"There is a lot of movement," Sims said.
Sims, who seems to be incredibly soft-spoken, wouldn't offer anything more, other than to smile, which he could rarely wipe off his face.
And why not? It was his first NFL practice under the glare of the Tampa Bay pen and mic club.