Lovie: About Three Guys "Looked Decent"
May 16th, 2014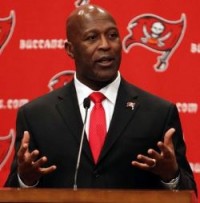 Yes, the Bucs need more depth on their offensive line. It's thin. It's got question marks. But it's also only May 16.
There's time to find a gem or two. Joe asked Lovie about prospective lineman at rookie minicamp today.
Answering the question, Lovie rolled more into what seemed like the overall assessment of minicamp participants and the odds of the 50 young men looking to be on the roster on opening day.
Joe: Lovie, for your offensive linemen out here, they can't hit anybody, so what would you say you're really looking to see for a guy that's a Lovie Smith offensive lineman?

Lovie Smith: Well, you're right. You can't. You can hit the sleds and hit the bags and all that. But you can show athletic ability at all positions. And that's what we're able to see. We put them through a lot of agility drills out there. Guys have distinguished themselves this past week. We have about three of the guys that have looked decent, without me going into detail, of course, who they are. But you can. Every time you go out here and go through drills, you can show coaches something that you can do.
Of course, in those "three guys" Lovie referenced, the head coach is not talking about his top draft picks.
But was Lovie referencing the entire undrafted group, or was he talking about potential offensive linemen? That was unclear. The Bucs have eight O-linemen in rookie camp, including their two fifth-round picks, Kevin Pamphile and Kadeem Edwards.
And now, Joe's not about to start talking about how might have looked good taking a handful of shots at a blocking sled.