Mike Evans Again Highlights Practice
May 17th, 2014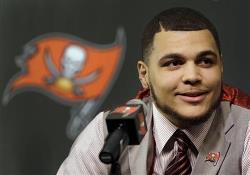 Joe was going to include this in his practice roundup but decided since it was the play of the day, again from first round pick wide receiver Mike Evans, Joe felt it best to devote a full post.
We all have heard by now of the Grant Hill-like tomahawk dunk catch Evans made yesterday. That move displayed his sick athletic skill set. Today, he displayed his brute strength.
Mind you there is no hitting in rookie camp. As Lovie Smith would say, this is underwear football — shorts, practice jersey and helmets. So there is little chance for players to be physical. That is, unless you are Evans.
On a pass down the sideline, Brett Smith tossed a complete and absolute lollipop of pass for Evans; cornerback Keith Lewis of Virginia-Lynchburg had Evans positioned perfectly. Lewis had Evans penned along the left sideline and the balloon pass floated right into Lewis' hands for a pick.
Well, it was a pick. For a brief second or two.
Evans, alertly, grabbed the ball wrapped up by Lewis' arms and ripped it right out of Lewis' hands. Evans then cradled the ball before stepping out of bounds for what would have been a ruled an interception-fumble.
The strip demonstrated just how freaking strong Evans is. Just tore it away from Lewis.
Granted, it is only rookie camp, but it is clear to Joe that among the rookies, Evans is playing on a different level. A higher level that is.