Has Bucs Talent Dropped Off From 2013?
May 17th, 2014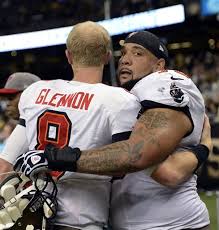 Tampa Tribune beat writer Roy Cummings isn't sold that the radical overhaul by the Lovie Smith regime represents a talent upgrade from 2013.
It's a somewhat scary concept, depending on how you evaluated the talent level last season.
Joe realizes many fans think the Bucs and former rockstar general manager Mark Dominik assembled a garbage roster last season, but Cummings was in the camp of analysts and fans that believed there was a pile of Bucs talent in place for opening day 2013.
"Let's see how some of these players they brought in work out. You know, if Michael Johnson is the Michael Johnson of 2012, as opposed to 2013, they got a shot. If Anthony Collins can play for 16 games the way he played for seven last year as a starter, that'll work. If they can find a right guard, it'll happen. If Carl Nicks can come back, yeah. If Doug Martin can stay healthy, they got a shot at winning 10 games. Sure they do," Cummings said on WHFS-FM, 98.7 today.

"This time last year we were looking at this team and saying this team should contend for a division title. There was that much talent on the team. I don't think the talent level has slipped much. I think it has slipped a little bit. Maybe a little. And I mean that particularly up front of the offensive line. I'm still not convinced that Donald Penn is not a better player than Anthony Collins and that Davin Joseph isn't better than whoever they're going to put out there at right guard. But we'll have to wait and see.

"I think they're better at a couple of other positions obviously. I think they're better at tight end. I think they're better at wide receiver now. Even with Mike Williams. I like [Mike] Evans a lot, what he brings. But we have to see how it happens. We're not sure we're better at quarterback than we were a year ago."
Cummings went on to repeat that the Bucs could get to the 10-win, 11-win level he believes Lovie Smith and Jason Licht are targeting, if everything breaks just right.
But Cummings did advise fans to "lower your expectations." He said the Bucs doubling their win total from 2013 would represent a feel-good season and six, seven or eight wins is a realistic projection for this time of year.
Are the Bucs more talented this season? It's a good question when you're just considering raw talent — opening day 2013 versus the one that's about 100 days away. It's a difficult answer this time of year. Joe's shared his deep concerns about the Bucs offensive line many times, and loyal readers here know Joe's take on Donald Penn versus Anthony Collins.
For Joe, it's just too early to go there.