Day 2 Rookie Minicamp Observations
May 17th, 2014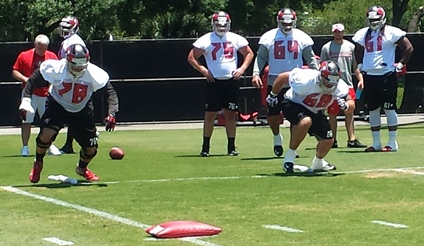 It's Joe's always popular practice notes and observations, this time from Day 2 of Bucs rookie minicamp/tryout camp at One Buc Palace.
Fifty young hopefuls, from stud draft picks to second-year players like former Florida State defensive tackle Everett Dawkins, a seventh-round pick of the Cowboys last year, took to the sunny, breezy fields.
*Defensive linemen went through a pass-rush drill where they ran full speed about 10 yards — one guy at a time — while busting out various pass rush moves. Plenty of teaching going on here, with D-line coach Joe Cullen yelling "full speed." (It's so rare to here yelling at Bucs practices, versus the hollering Greg Schiano era, that Joe feels it's worth mentioning.) Defensive tackle prospect Euclid Cummings drew a lot of praise, as did the guy who lined up opposite Jadeveon Clowney on the South Carolina defensive line, DE Chaz Sutton. Corey Henry, a tryout player out of Florida Atlantic, was pounded to get his uppercut punch "straight up."
*More punt catching troubles for sixth-round pick Robert Herron, who later told reporters he hasn't done punt return since high school.
*Tight end Taylor Sloat of UC-Davis had safety Mark Joyce of South Florida beat on a look-in pass but he bobbled and dropped the pass from Brett Smith, despite the ball hitting him square in the numbers. Not the best way to win an invite to training camp. Sloat redeemed himself later with a nice one-handed catch down the right sideline.
*Robert Herron hooked up with his old college battery mate Smith with a nice leaping catch of an overthrown ball toward the right sideline. Herron roasted "Cal" cornerback Marc Anthony with a double-move that left Anthony helpless, lost and alone.
*Anthony later made up for the embarrassment. Sloat had beaten him badly on a down-and-in from the left side. But Anthony made a nice, speedy recovery to dive and tip the pass in the air just enough. As he crashed to the ground, the ball landed softly in Anthony's lap for a pick.
*Last off the field after sticking around for extra work? Second-round pick, TE Austin-Seferian Jenkins.
And for you real junkies, here's Joe's "All-22" for today — what happened in the final 22 snaps in 7-on-7 work. (All throws by Wyoming QB Brett Smith)
1) Slant route catch by Herron. It drew praise from the coaching staff. The kid has standout quickness.
2) Underthrown deep ball to Charles Sims, who had linebacker Steven Jenkins beaten by seven yards. Sims came back for the catch.
3) Former Gator Solomon Patton with a jumping catch.
4) Short pass to Sloat
5) Easy pass to the other Sims, fullback David Sims of Georgia Tech.
6) Juggling catch of a high, five-yard dumpoff pass over the middle by Mike Evans.
7) Short pass to RB hopeful Jeremy Smith
8) Another slant to Herron.
9) DROP! 15-yard sideline route to Herron. "C'mon, Rob!" came from the coaching staff.
10) Short completion. Joe was distracted by a text message.
11) Too high pass for WR Aaron Burks out of Boise State.
12) Tight pass with rare zip from Smith to Patton in tight space. 10 yards.
13) Short pass to Evans.
14) Quick slant to Patton. Same route Herron had been running. Patton's pretty darn quick, too.
15) QB tuck and run.
16) Diving catch by Sloat at sideline.
17) Deep ball way underthrown to Evans. Joe could almost feel the coaching staff praying Evans didn't come back to the ball to attempt an heroic, dangerous catch.
18) Short completion.
19) Overthrow of Herron.
20) Dumpoff pass. Perhaps to "rest" Brett Smith's noodle arm?
21) Nice pass in the flat to TE prospect Jamel Johnson out of Alabama State.
22) Deep TD connection to Charles Sims to end practice. The dude has baby soft hands.