Lavonte David: No. 5
May 26th, 2014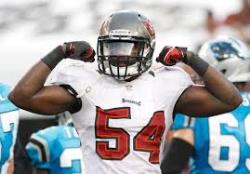 The stat nerds over at Pro Football Focus continued (rather, finished) their countdown to the top 101 players in the NFL. It's fun fodder to fill downtime in the NFL as training camp is roughly six weeks away.
(Joe is pretty sure, given the past history of the Bucs, and given what cornerback D.J. Moore said, that the Bucs' first camp practice is July 25.)
When people say the Bucs could be the Chiefs of this season, it is because the Bucs really do have talent. Case in point, linebacker Lavonte David. The spreadsheeters believe David is the fifth-best player in the NFL and have a nice feature breaking down his game.
Here is an element of the story that stuck out for Joe:
Key Stat: Made 83 defensive stops, 21 more than the next best 4-3 OLB.

If there's one number that shows the kind of player David is, it's this one. Not all tackles are created equal. A tackle 10 yards down field on 3rd-and-7 isn't a particularly useful play, but one at the line of scrimmage on 3rd-and-2 is. Defensive stops include any tackle that constitutes an offensive failure on the play. Short of the required distance on third and fourth downs, fewer than 40% of the required yards on first down, and so on.

David had 21 more stops than any other player at his position. In fact, he more than doubled the stop total for all but seven other 4-3 OLBs. David was making plays closer to the line of scrimmage than anybody else and did it without sacrificing his position in coverage, finishing just behind Carolina LB Thomas Davis at the top of the coverage grades for the position. In short, David was the perfect WLB in that 4-3 scheme in 2013, and may well have been every bit as good as Gerald McCoy in front of him.
That is pretty damned significant. Of course, to be fair, David had a lot of chances since the Bucs offense was woeful last year.
Joe never dreamed he would see another Derrick Brooks suit up for the Bucs, and Joe doesn't even like to invoke Brooks' name here because it really isn't fair to David. But David is about as close to Brooks as any player is going to get.
Bucs fans enjoy and appreciate just what a stud of a linebacker David is, even though dopes, like this Browns fan, claim they never heard of him.