Another Bad Sign For Clayborn's Bucs Future
May 26th, 2014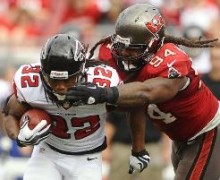 When Lovie Smith called second-year man Steven Means his "prototype" defensive end last week, that was just another big clue Adrian Clayborn's Tampa Bay future is in doubt.
The size, speed and long arms Lovie was referencing in means are not among Clayborn's attributes.
Consider the following:
In 2009, Lovie Smith traded a second-round pick to the Bucs in midseason for athletic underperformer Gaines Adams (R.I.P), who was big, long and fast.
In 2010, Lovie replaced Adams with a whopper of a contract for Julius Peppers, one of the greatest and largest athletes to ever play DE. Lovie also drafted Corey Wootton out of Northwestern, a 6-6 DE who dropped in the draft after recovering from a knee injury in college. Wootton had seven sacks for Lovie in 2012, in a part-time role.
In 2012, Lovie's last season in Chicago, the Bears drafted DE Shea McClellin in the first round. He had elite speed but not the size. McClellin was a bust at DE and is being moved to linebacker this season.
In 2014, gigantic, long, athletic Michael Johnson was Lovie's go-to choice in free agency. He'll start for the Bucs at RDE.
Joe doesn't doubt that Clayborn can be a positive contributor as a rotational defense end for Tampa Bay this season. But with his contract ending after the season, and the Bucs already declining his 2015 option, Joe would bet the Bucs would prefer to have inexpensive second-year man William Gholston win the starting left defensive end job.
Also, Clayborn simply doesn't fit the "prototype." And Lovie's here to do it his way.