Freeman Is Cut By The Giants
May 30th, 2014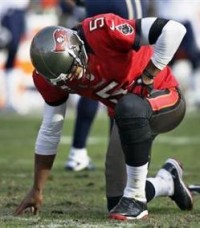 Josh Freeman's freefall has another notch on its belt.
This afternoon, the Bucs' former franchise quarterback was cut by the New York Giants.
It sure is a lousy sign to get cut in May from a team with a starting QB recovering from a serious injury and questionable talent at the position.
What happened?
Joe hopes for Freeman's sake it wasn't related to off-field issues, such as his sleepy, leaky ways during his final days in Tampa.
Freeman supporters have to find it troubling that Freeman was ousted from the Giants, where he no doubt arrived with the endorsement of former Tom Coughlin coaches Mike Sullivan and/or John McNulty, who worked with Freeman in Tampa last year.
Is the CFL next for Freeman?