Demar Dotson: A Future Star?
May 30th, 2014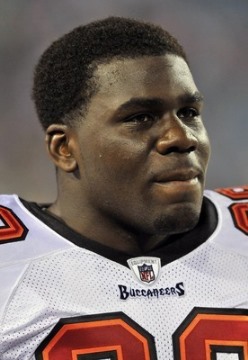 Joe knows this angers fans, but one reason Joe is very suspicious of the Bucs' front line is because right tackle Demar Dotson has holes in his game.
He's not bad, not bad at all, and the Bucs' new braintrust of general manager Jason Licht and coach Lovie Smith seem to have seen enough to keep Dotson as a starter.
In fact, if left guard Carl Nicks cannot answer the bell come Week 1 — and who really expects him to? — Dotson will be the lone returning starter on the offensive line.
Dotson quite possibly is Joe's favorite guy on the roster. You cannot find a nicer guy. He's always willing just to shoot the breeze and talk about life. Joe's a fan of Dotson. But Joe must be real. And Joe believes that even Dotson will admit his game needs work. He's that much of a stand-up guy.
Don't, however, tell this to the stat nerds over at Pro Football Focus. They crunched their numbers and believe Dotson will be a breakout star this fall.
It will be tough for Dotson to improve upon his superb 2013 season, but he has all the tools do it. At 6-foot-9 and 315 pounds, Dotson is as fluid an athlete with as quick a pair of feet you'll find at that size. He's tremendous in space and, one would think he could easily make the switch to left tackle if need be.

The Bucs are hoping that won't be necessary though with new additions to the line. Left tackle Anthony Collins was signed from Cincinnati along with new center Evan Dietrich-Smith from Green Bay. Combine that with the return of former all-pro Carl Nicks and the Bucs will be sending out, at least on paper, a much-improved offensive line from 2013.

One of the reasons Tampa was able to sign all that talent was due to the contract they gave to Dotson last offseason. Coming off of his first year as a starter, the right tackle received a three-year, $4.5m extension that will keep him on the roster through the 2016 season. As the 23rd-highest paid right tackle, Dotson is far and away one of the best values at the position and a deserving Secret Superstar.
Forgive Joe if he's not on the Demar-Dotson-is-Anthony-Munoz train. Rush blocking is simply not Dotson's forte. This is because of leverage. Remember, Dotson, a former hoops player at Southern Miss, is 6-9. It's no more difficult to figure out than that. It's all about leverage.
Again, Dotson may very well become a good right tackle. But "star" offensive tackles don't get bullrushed like below.