It's Lovie's Show
May 30th, 2014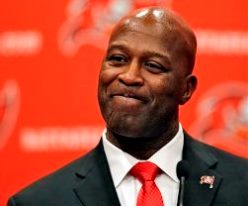 Bucs fans always want to know who calls the shots at One Buc Palace. Was it ex-commander Greg Schiano? Was it former Bucs rock star general manager Mark Dominik? Was it Team Glazer? Is it Jason Licht? Is it Lovie?
To listen to the words of the "Custodian of Canton," the wizard of words, eye-RAH! Kaufman of The Tampa Tribune, let there be no mistaking who runs the show at One Buc Palace these days.
His name is Lovie Smith, so Kaufman told Pat Kirwan and Jim Miller, co-hosts of "Movin' the Chains," heard exclusively on SiriusXM NFL Radio.
"It's been bad down here in Tampa. They've made some bad coaching hires in retrospect," Kaufman said. "We will see how it works out with Lovie. The hiring of Lovie Smith, let no one else think that it was anyone but the Glazers. Just like they hired Schiano. Just like they hired [Jon] Gruden. They don't get a general manager and let him make the calls. I am not saying Jason Licht is powerless, but Lovie is running the ship here. That's the Glazer Way.

"Lovie Smith is the central figure. He's the guy from central casting. Look, they've made a flurry of moves, you are right, Jim. You are not going to recognize this team. I think they replace half of the 22 starters next year. That tells you what Lovie Smith thought of the 2013 Buccaneers. He thought they were bereft of talent."
Now Kaufman did not say this, but one can simply read between the lines: If Team Glazer handed Lovie the power to run the football operations, then logically connecting the dots reveals it was Lovie who didn't want to retain Dominik.
Here's the thing that comes with power: If things go bad, then guess who gets all the s(p)it dumped in their lap? You guessed it. The guy with the power.
For Lovie's sake, Joe sure hopes offensive coordinator Jeff Tedford is a brilliant hire.