Don't Worry About Doug Martin
May 17th, 2014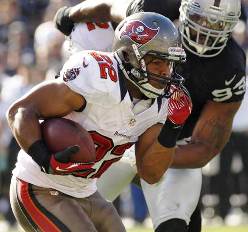 The drafting of running back Charles Sims out of West Virginia sure opened up a lot of people's eyes. Bucs fans started to worry about the job status of fan favorite Doug Martin.
Lovie had told Joe at the NFL Scouting Combine that Doug Martin would be his bellcow and he lauded the Bucs' stable of running backs.
Then, the night he drafted Sims, Lovie said the Bucs were looking for a pass-catching running back.
Joe thought Sims' arrival could signal the Bucs want to keep Martin on a pitch count to extend his years.
Lovie stated yesterday there is no need for concern about Martin.
"Doug is our starting tailback, he's on most of the billboards around here," Lovie said yesterday. "He's an All-Pro running back; there's nothing to dislike about Doug Martin. At the same time, we want Doug around for many years and by that you need to have some other guys, you can't carry it every second of the way. He's done everything we've asked him to do and couldn't be more pleased with him."
Keeping Martin on a pitch count is just smart. Not only does it keep a valuable running back fresh, it protects a major investment. Running backs are simply abused in the NFL from the punishment they take.
Besides, this will also keep defenses from keying on Martin.