Video: The Mike Evans Catch
May 17th, 2014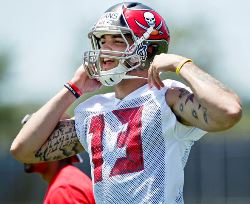 Mike Evans turned heads, wowed watchers and dropped jaws yesterday, the first time non-Bucs employees were allowed to watch Evans on a Bucs practice field.
He certainly got Joe's attention.
And the No. 7 pick of the draft didn't disappoint. It only took him 101 minutes into the 120-minute practice to leave a lasting impression.
Lining up in almost a slot position to the right, Evans ran sort of a seam route or a post route where the pass from Brett Smith was terribly overthrown. Overthrown for any mere receiver, not a freak like Evans.
Evans jumped, reached up as if he was Grant Hill about to tomahawk slam an alley-oop pass from Bobby Hurley. Evans grabbed the pass without even trying to use two hands. He brought the ball back down and continued to the end zone as if he had done this all his life.
First there were photos. Now comes the video courtesy of Buccaneers.com. Enjoy.