Don't "Undervalue" V-Jax Impact
May 26th, 2014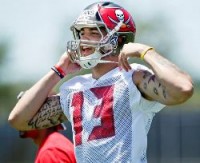 One of the more cerebral ex-Buccaneer greats, a former Pro Bowl wide receiver himself, is very high on the Bucs' chances for a revived passing game.
Mark Carrier, who racked up 1,422 yards catching passes from Vinny Testaverde and Joe Ferguson in 1989, is now a front office executive for the Panthers. Speaking to Tom Krasniqi of WDAE-AM 620 on Saturday, Carrier said he is very confident Mike Evans "is going to be special" after watching him at the NFL Scouting Combine in Indianapolis.
Carrier cautioned Bucs fans not to "undervalue" the impact of Vincent Jackson on Evans because Jackson knows the specialized skill of "how to play as a big receiver." It's a different game for the big targets, Carrier explained, with smaller defensive backs trying to be more physical with them. Carrier was listed at just 6-0, 186 pounds during his playing days.
In what will be music to Bucs fans who watched every snap of the league's worst offense last season, Carrier believes Evans instantly "makes that entire offense a whole lot better."
These are wise, sage takes from Carrier. Jackson may very well be the most important coach Evans will have. If Evans is the real deal, well, Sundays will be darn exciting if Jeff Tedford is competent and the Bucs get decent quarterback play. (You can listen to Carrier's full interview below.)