Nicks Is Running, Hoping
April 22nd, 2014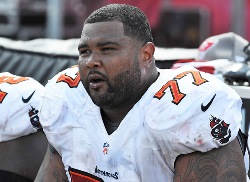 The human armoire, Bucs left guard Carl Nicks, is watching practice this afternoon and taking "mental reps." Nicks won't be running with his teammates.
However, Nicks is running on his own and working out in a fashion that has him excited.
Nicks looked to be in fantastic shape talking to media today at One Buc Palace, even his toe looked normal. He said he's doing all kinds of training and rehab, including squatting and lunging, but is staying away from "quick" and explosive movements he has a "struggle with."
"It's coming, man. I'm optimistic. My goal is to be ready for training camp. If I'm ready for training camp, I'm good. Right now, Lovie's taking it easy on me," Nicks said.
Nicks went on to say he's confident he can pull off a successful return. He acknowledged he may never be as dominant he once was as a Pro Bowler, but Nicks said Lovie Smith told him "my 80 percent is still pretty good."
As for the new environment at One Buc Palace, Nicks said change is evident.
"I would say the atmosphere is a lot more up tempo, upbeat. There's a lot of positivity going around. Smiles. I saw smiles when I came into work today. That's always good," Nicks said.