Demps Agrees With "Fastest Man" Label
April 22nd, 2014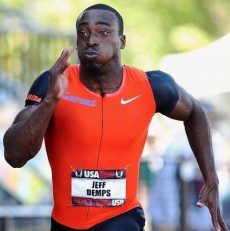 Olympic speedster, former Gator and Lovie Smith focus Jeff Demps is healthy and will be on the practice field this afternoon for the start of Bucs minicamp.
Is he the fastest man in the NFL? Demps sure thinks so.
Even after recovering from groin surgery last last year, Demps says he's ready to fly immediately.
Joe chatted with Demps today at One Buc Palace when guard Jamon Meredith started in with some friendly ribbing of his "locker buddy" calling him the "fastest man in the NFL."
Joe told Demps that Lovie Smith called him that this offseason, and Demps said he was familiar with the comment and agreed. "I agree with Lovie. We'll what I can do with that to help the team on the field," Demps said.
Demps is a wild card of this Bucs offseason. How might "speed-in-space" Jeff Tedford want to use him? Can he stretch a defense? Can he play running back?
Demps says he just wants to make the roster. As of today, he wasn't sure whether he would be involved in returning kicks, but Demps was confident he'll get a shot to show what he can do in the offense.
Stick with Joe for much more through this historic day in Bucs history. The start of the Lovie Smith regime — on the field.