Da'Quan Bowers At A "Turning Point"
April 22nd, 2014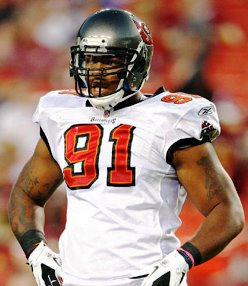 Joe hasn't felt the vibe he sensed today in the Bucs locker room in a long, long time. It's almost like the principal just gave the school an extra recess.
No, the Bucs players were not slacking off on their first day of volunteer mini-camp at One Buc Palace. But there is a sense of fresh air. Virtually every player Joe saw had a smile on his face, which is sort of strange, given that practice was only moments away.
No one seemed reborn more than the defensive linemen. Gone are the silly Bill Sheridan stunts and the blitzes from half the team. No, under new coach Lovie Smith, defensive linemen have but one edict: Get to the quarterback.
Joe's not sure anyone was more pumped than defensive end Da'Quan Bowers. The former second round pick is now entering his fourth season playing for his third coach. To suggest Bowers has limited time to show his worth is an understatement. And Bowers knows this, yet is welcoming the challenge.
"I am excited," Bowers said. "There is a lot of excitement in Tampa. Looking forward to getting out on the field for the first time. Fresh start for everybody. Last year was a tough year not just for myself but for the entire team.

"Whatever my role is, [Lovie] hasn't said to me but whatever it is, I am for helping the team. It is about getting better pushing each other and competing with each other."
Bowers has a grand total of 5.5 sacks in his previous three years. A disappointment to be sure. And with the new Bucs regime already showing they are only loyal to results, Bowers, unless he improves, could very well be looking at his final season with the Bucs, if he makes the team.
Last year, Bowers was all but handed a starting job because the Bucs let starting defensive end and sack leader Michael Bennett walk away for no good reason. How did Bowers respond? He came into camp out of shape, struggled throughout training camp and was not starting.
Bowers understands if he doesn't produce, he is likely gone.
"This is the turning point of my career," Bowers said. "I expect a lot of good things. I don't think this coaching change could have come at a better time for me. [Coaches are] letting the players play football. Just do your job. get it done.
"We are ready to rush the passer with no restrictions this year. It's a good time to be a defensive end in this system. I will put it like that. Not as many restrictions as we had in the past but a lot of getting after the quarterback, things that defensive ends like to do. That's the way it should be. We shouldn't have to rely on five- and six-man blitzes to get to the quarterback."