"Kind Of Reminds Me Of Me"
April 20th, 2014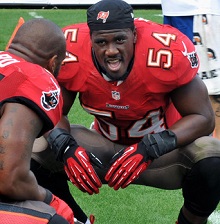 How good is Lavonte David? Bucs icon Derrick Brooks has said multiple times that David is, after two seasons, ahead of the Hall of Fame pace Brooks set.
Now another Bucs icon is talking about David looking like a Bucs legend.
Yes, Joe is giving Hardy Nickerson Bucs-legend status. The new Bucs linebackers coach made five Pro Bowls in seven Tampa Bay seasons. He holds the Bucs' single-season tackling record (214 in 1993). He was at the center of the Bucs' glory days turnaround, and Nickerson surely aced the eyeball test without all the stats. He was dominant and punishing, as well as a mentor to Brooks and Warren Sapp.
Nickerson told Buccaneers.com in this recent interview that he sees himself in Lavonte David, after getting a chance to the young phenom 1-on-1.
He "kind of reminds me of me," Nickerson said. He was referring specifically to David's great pride in his work and seriousness about football.
Nickerson weighed in on other Bucs linebackers, as well.
On Jonathan Casillas: "You fall in love with his speed."
On newcomer Dane Fletcher: Nickerson raved about his extreme versatility, from rush to coverage.
On Mason Foster: They're counting on him handling increased responsibility.