Warren Sapp No. 3
April 20th, 2014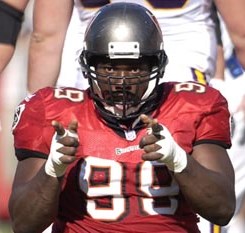 Yes, the fun list of the top Bucs in franchise history continues from Pat Yasinskas of ESPN. This time Yasinskas selected Hall of Fame tackle Warren Sapp.
Sapp changed the position of defensive tackle. He showed that you can dominate a game from the interior of the defensive line. For most of his time with the Bucs, Sapp was the best defensive tackle in the game.

He and Brooks were the cornerstones of a defense that won one Super Bowl and probably should have won more than that if the offense had been better. Sapp was never beloved by the fan base the same way that Brooks, John Lynch, Ronde Barber and Mike Alstott were.
Joe's not so sure Sapp changed the position. That would have been Joe Greene, who former Bucs coach Father Dungy wanted Sapp to emulate. Having Sapp at No. 3 is probably right. It's a flip of the coin who Joe thinks is better: Sapp or Derrick Brooks. Both made each other.
Frankly, Joe might lean Brooks as he played with the Bucs longer and was at the top of his game longer than Sapp was.