"Just Do Right"
April 8th, 2014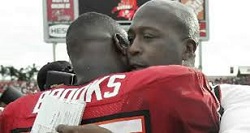 Lovie Smith got to deliver the inaugural Lovieball address in Tampa yesterday. The Bucs reported back for duty, which starts with conditioning and classroom work, per league rules.
So what did Lovie tell his troops?
Well, the media doesn't have access to the Bucs until this afternoon, but Buccaneers.com reporter Scott Smith, of course, has insider capability. He caught up with well-paid defensive end Michael Johnson and asked about Lovie's message. You can hear Johnson's response in this video.
The key quote was Lovie advising the team, "Just do right," (aka Don't Be Like Mike) and Johnson went on to say all things you'd expect, like how Lovie treated everyone like men. (No word on what the room temperature was in team meetings.)
As Joe mentioned, select Bucs will be chatting with media types today. So keep coming back. There's plenty happening today.