Don't Change, Jason
April 8th, 2014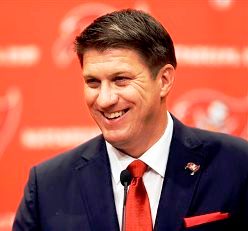 When Mike Williams was shipped off to Buffalo Friday, it sure didn't make the Bucs better (in April). A position that could have used fresh blood all of a sudden became a glaring need.
Two things disturbed Joe in recent weeks: maybe Mike Williams isn't the best of neighbors (the one thing that wasn't alleged against Williams was that he didn't have a mongrel barking 24/7 and crapping all over people's yards; he had that going for him) and how quickly fans turned on him for his petty crimes against humanity.
You would have thought Williams speed-bagged a cabbie going down the highway or blasted a teammate in the face with his helmet or pistol-whipped someone or fired a gun in anger in a nice neighborhood while thinking he was the Lone Ranger. Bucs fans absolutely turned on the guy.
Joe thinks that happened, in part, because so many Bucs fans are struck with the Sammy Watkins Fetish, and the best way for the Bucs to draft Watkins was to get rid of either Vincent Jackson or Williams, creating a hole in the roster. Since Williams seemed to have already had a step out the door, these same Bucs fans were only too happy to slam the door.
Joe has written before he has no issue with Watkins. None. But Joe wouldn't draft him because there are bigger needs and since the draft is so lousy with wide receivers, you can get quality and value later in the draft.
So, no, the exit of Williams wouldn't change Joe's thinking about how to attack the draft, if Joe were Bucs general manger Jason Licht, who is all about value.
Joe's good friend Justin Pawlowski is of the same mind. He believes, too, Licht should stay the course.
Prior to the trade of Williams to the Bills, I thought there was already a good chance the Bucs would go with either Clemson's Sammy Watkins or Texas A&M's Mike Evans, if either was available. To take it a step further, I didn't think then, and still don't think now, that it is out of the realm of possibility that the Bucs double up on receiver in this deep draft at the position.

While receiver is undoubtedly a need of the Buccaneers, it is not their only need. It is also not the only direction they could go in the 1st round.

Because this draft is so loaded at receiver, the Bucs can go in a different direction in the 1st round if the receiver they covet is off the board, and still get a very talented receiver in round 2. Depending on how the 1st round plays out, receivers like USC's Marqise Lee, FSU's Kelvin Benjamin, Penn State's Allen Robinson, and Ole Miss' Donte Moncrief could all be available when the Bucs pick in round 2. The 3rd round will have another group of talented receivers as well, which could include a couple names mentioned before.
Joe has been writing for months if Robinson, projected to be at worst a late-second-round pick, slips, the Bucs, now with a third-round pick, should be all over him like a cheap suit. The Bucs have bigger fish to fry than selecting Watkins at No. 7, though Joe wouldn't lose sleep over it.
We all know who Joe would pick at No. 7. If somehow who this mystery player has slipped your mind, Joe will help spring your memory.