Derrick Brooks And The Hall Of Fame
April 18th, 2014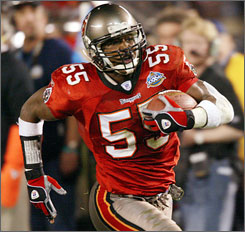 All NFL fans like Joe are chomping at the bit for the draft get to here. It is 20 painful days away. Can't get here soon enough.
But there's another event Bucs fans are drooling over to arrive, and we have all but forgotten about it while in the fog of endless mock drafts. That is the induction of the Pro Football Hall of Fame Class of 2014, which takes place 15 weeks from tomorrow, Aug. 2.
Highlighted in that class is none other than double-nickel, Mr. Derrick Brooks. The former Bucs great outside linebacker visited Canton recently and sat down for an interview to talk all things Bucs and, of course, the Pro Football Hall of Fame.