Sapp's Pick Is Teddy Bridgewater
April 22nd, 2014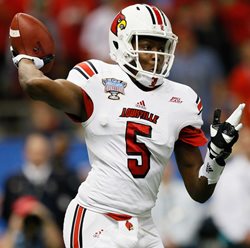 Back at the 2014 NFL Owners Meetings in Orlando, Joe joined other media types for a long, cozy breakfast with Lovie Smith.
One question Joe asked Lovie was what glory-days Buccaneers were reaching out to him to get involved with the new regime and the scope of those conversations. It seemed to be a fair question, considering that at Lovie's introductory news conference he publicly stated he'd be welcoming ex-Buccaneers with open arms.
Lovie's response was classic. He looked at Joe and playfully said something to the effect of, "Don't you think Warren Sapp is in my ear all the time?"
Joe paraphrased there, but the message was clear. Sapp, like he did through the Raheem Morris and Greg Schiano regimes, is making sure his voice and desires are heard by the head coach.
And that brings Joe to Sapp's analysis on NFL Network last night. No. 99 explained why his No. 1 overall pick in the NFL Draft is Louisville QB Teddy Bridgewater. His take came with a tongue-lashing and pointed advice for Jadeveon Clowney.
So is Sapp trumpeting Bridgewater to Lovie Smith? Joe can't be sure. However, Joe remembers Sapp getting in Joe's face at Super Bowl Media Day talking about how Mike Glennon was not worthy of the Bucs' starting job.
Of course, what's interesting is that, if you believe the draft gurus, Bridgewater will be there for the Buccaneers with the No. 7 overall pick next month. That was unthinkable a few months ago.
Yes, Joe would be very pleased to see the Bucs draft Bridgewater.