Brickmaster Derek Carr
April 20th, 2014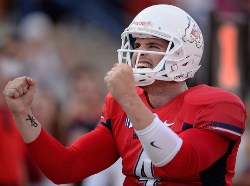 The weird and wacky world of interviewing NFL prospects knows no limits.
Ever since the Dolphins asked Dez Bryant if his mother was a whore, Joe has vowed to never be surprised by anything that happens before the NFL Draft.
The Bucs have been busy interviewing, watching and working out quarterback prospects, including Johnny Football, Derek Carr, Teddy Bridgewater and Jimmy Garappolo.
Carr, a lifelong friend and student of Bucs offensive coordinator Jeff Tedford, has a big arm and talks a big game about how good character and religion dominate his life. Joe interviewed Carr at the NFL Scouting Combine in Indianapolis and came away impressed with the kid's attitude.
Carr sat down with NBC Sports Network's Erik Kuselias on Friday to talk about his game and pre-draft experiences. He shared some quality ridiculousness. A team gave Carr a bizarre brick test, requesting he devote a minute of their precious time together to name all the things he could think of doing with a brick. (You can enjoy the interview below.)
Joe is still trying to figure out how that question could help a team evaluate a QB. Yeah, Joe gets that a question like that is used to loosen up a guy and take him out of his comfort zone, but it's still stupid and needless.
This reminded of Joe of when Joe went through the process to land a stock clerk job at a grocery store many years ago. The store manager told young Joe he would have made a hell of a stock boy but because Joe failed a post-interview competency assessment, there would be no job offer.