"Wildly Productive" And "Super Efficient"
April 20th, 2014
Podcast: Play in new window | Download | Embed
Subscribe: RSS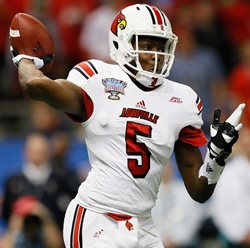 Joe heard the urgent "Tank for Teddy" chants from fans of bad NFL teams last year. Plenty of Bucs faithful were in the mix.
The concept was simple: fans wanted their team to lose earn the No. 1 pick in the draft so they could select Louisville QB Teddy Bridgewater.
But that now seems, for some, like a misguided effort. Prominent draft experts say Bridgewater is freefalling and surely isn't worthy of a top-10 draft pick. (Joe's not buying it.)
Former Bucs QB Trent Dilfer, who takes pride in his quarterback evaluation, spoke out about this year's quarterbacks class on BSPN Radio this week. Dilfer knows Bridgewater personally from a QB camp they worked together.
In the radio interview, Dilfer explained that he's starting to publicly detail his thoughts on the college QBs after much film study and understanding of what they were asked to do in college.
"Wildly productive" and "super efficient" is how Dilfer described Bridgewater's college career. "When he is between the lines he makes good decisions. He sees it clearly. He knows the timing and tempo it takes to be successful," Dilfer said.
But Dilfer also detailed why Bridgewater is not a slam-dunk pick.
"He doesn't have a lot of juice. His body doesn't output a lot of energy. So it's a little methodical. Not a lot of power in the body. His frame is not one you look at and go, 'Wow, that guy's going to be durable,'" Dilfer said of Bridgewater. "And you start adding all of this up, and he's still a really good player. But he doesn't have, because of the things you kind of learn more about him, he's not a guy that you go, 'Wow. That's a franchise guy. That's a top-10 pick. That's a guy we can build around.'

"It's more, 'Ok, he's gotta fit into the right system, have really good people around him. And when he does, he'll be a very good player."
Joe gets what Dilfer is saying, but what QB doesn't need the "right system" and "good people around him?" Joe's seen Tom Brady have a great year with garbage receivers, but are there any others? Joe doesn't see any of that as a reason not to consider Bridgewater a true franchise QB prospect.
Blake Bortles? Dilfer says he has "dude qualities" and is a natural and instant leader of men.
Johnny Football? Dilfer was thoroughly non-committal. He said Johnny Football will be a "fascinating watch" in the NFL and his new team will get an "uncomfortable ride" with big highs and big lows in his first season.
Derek Carr, Dilfer said, is a "a Drew Bledsoe type passer, off the charts as a passer, top-8 passer we've seen in the last 10 drafts." He tempered that saying Carr "has other stuff to work on" and can be great, high second-round pick.
But Joe's going back to Bridgewater. The Bucs need a QB with the potential for greatness. Joe doesn't believe the Bucs have a quarterback with that kind of talent on the roster. If Bridgewater is there for the Bucs, Joe would welcome that selection.
In Kentucky, they are stunned by Bridgewater's alleged fall from grace. Tim Sullivan of the Courier-Journal penned a column of disbelief last night.
Joe will leave you with this excerpt:
He's the same prolific passer who threw 31 touchdown passes last season against only four interceptions. He's the same guy who could hit a gnat on the numbers at 30 yards. If Bridgewater's hands are comparatively small for an NFL quarterback, they did not prevent him from completing 71 percent of his passes during the 2013 season. If his reported Wonderlic score (20) has created concerns, it nonetheless exceeds the test results of Hall of Fame quarterbacks Terry Bradshaw, Jim Kelly and Dan Marino.
(You can hear Dilfer's full QB breakdown below, via the podcast button.)