The Perfect Sentence For Mike Williams
March 28th, 2014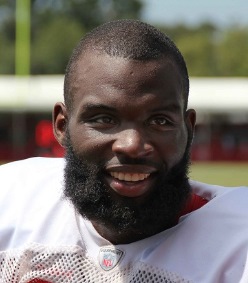 Back when unprovoked Aqib Talib sat in the backseat of a taxi cruising on a Pinellas County highway and decided to start punching his cabbie in the head, Talib, following his arrest, jumped at the chance to enter Florida's misdemeanor, pre-trial intervention program.
It's a pretty simple deal for a first-time offender. Don't get arrested for up to a year, attend some court-approved counseling/classes, pay for your damages and court costs, and the State will drop your charges.
Yesterday, Mike Williams accepted the same kind of deal on the misdemeanor trespassing and criminal mischief charges leveled on him last year.
Now Williams didn't hit anyone and wasn't hauled away in a police car to the slammer like Talib was. Williams was accused of damaging a door that took less than $200 to repair. Per the Tampa Bay Times, Williams paid for the damage at the scene and police assessed the situation and didn't arrest him at the time. Days later, Williams got a notice to appear in court.
Williams' charges stemmed from a December incident with his girlfriend at the time, Gabrielle Edwards. Romine said Williams was trying to get valuables from her home — and even had his mother with him at the time — but in doing so had banged on the front door hard enough to knock it off its hinges.

Williams had paid for the damages on the scene, and Romine said police arrived but did not make an arrest.

Romine said Edwards had met Williams that night at the Seminole Hard Rock Casino and attended other family events, and charges came unexpectedly and much later.
From Joe's experience covering police issues, Joe will state that it would be standard procedure for the alleged victim in the case to agree to Williams entering pre-trial intervention, rather than having the case go to court.
Regardless, Joe's glad this minor Williams manner ended this way. It's the perfect sentence/order for Williams: behave immediately and don't screw up. That's pretty much the same message Lovie Smith will deliver Williams when the two can talk about Williams' football future on April 7, when the Buccaneers officially return to One Buc Palace for 2014 duty.