McCown Talks About Johnny Football
March 28th, 2014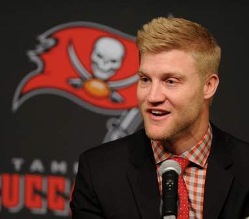 Lovie Smith said Wednesday to Joe and other media that he'll exhaust all connections and learning opportunities to make a decision about potential Bucs draft pick.
For Johnny Football, Lovie won't have to go far to find a little insight.
Yes, Bucs starting quarterback Josh McCown has had more than just a passing interest in Johnny Football. McCown's older brother Randy was a Texas A&M starting quarterback (1997-1999) just like Johnny Football and has gotten to know him.
Speaking on the Listen Closely podcast on ESPN, hosted by Linda Cohn, Josh McCown said the off-the-field drama surrounding his fellow Texan, Johnny Football, was understandable and is seemingly in the past.
McCown said being a successful college quarterback in Texas, let alone at College Station, is "a huge deal" with tremendous pressure and scrutiny, something his brother experienced on a smaller scale.
"Couple that with a Heisman and the success that they had [with Johnny Football], so I can understand how that could become overwhelming," Josh McCown said.
McCown said his brother came away from his time with Johnny Football with the impression that Johnny's "got a lot going on" but is heading in the right direction.
"Once he gets to the NFL and he gets around older people and he gets around the right guys in the locker room and he'll be able to function and hopefully help a football team. The on-field stuff, how that translates to the NFL, will be interesting to see," McCown said. "My brother enjoyed the time he spent around [Johnny Football] and thought he was a good guy, really, you know, was impressed with him. It seems like all the other hoopla and mess has kind of passed him."
McCown didn't talk about Johnny Football and the Buccaneers, but he did say any QB chosen in top-10 overall must be prepared for an "instant bulls-eye on your chest, and you're the man and you've got to lead a franchise."
Regardless of what QB the Bucs may draft, the more Joe listens to McCown speak, the more Joe realizes what a fantastic mentor this guy will be for Mike Glennon and a rookie quarterback. It's too bad sleepy, leaky Josh Freeman wasn't given a guy like McCown to lean on during his formative years.