No Urgency For Gerald McCoy Contract
March 28th, 2014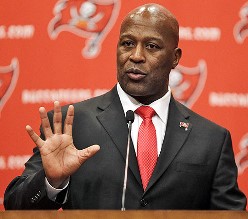 Joe saw other media make a big deal about Lovie Smith saying Wednesday that extending Gerald McCoy's contract is a priority.
For Joe, that was like saying, "we want to score touchdowns" or "we want to get after the quarterback." It was an extreme no-brainer of a statement.
McCoy is arguably the best defensive tackle in the game; surely he's among the top five in the NFL. And there's probably no better DT for Lovie's defense. Throw in McCoy's charitable efforts, squeaky clean reputation and desire to lead, and of course the Bucs plan to pay him whatever they must in order to keep him. McCoy's contract runs out after the season.
(No. Joe won't call McCoy a great leader. Joe will wait until he leads a winning team.)
But there is no urgency to re-sign McCoy. The Bucs don't need the 2014 cap room re-signing him now could have created. And as long as Ndamukong Suh's new contract talks are imminent — reports out of Detroit say they are — the Bucs would be wise to play wait-and-see on Suh. The same goes for McCoy's camp.
McCoy will no doubt seek at least as much as Suh and face-of-the-franchise money, especially with the predicted explosive rise of the salary camp over the next five years. He'll probably deserve it.
On Wednesday, Lovie said he believes having legitimate pass rushers around McCoy, guys like Michael Johnson and Clinton McDonald, should allow McCoy to make more plays and take his game up another level. Joe wouldn't mind seeing that happen before the Bucs offer McCoy a contract that could exceed Darrelle Revis money.