Stop The Glazer-Revis Nonsense
March 11th, 2014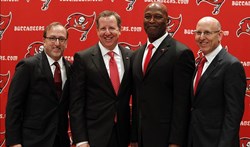 Joe hears outlandish Bucs theories all the time and Joe got hit with this one quite a bit last night: It's Team Glazer driving the ditching of Darrelle Revis so they can save money.
Joe can't believe how many bongs must be in use for Joe to get peppered with Team-Glazer-hate email on this subject and to read such nonsense in the comments section here.
First, Team Glazer may or may not have a payroll budget for the 2014 season (there's not much freedom with it anyway given the NFL labor agreement and its mandatory spending clauses), but why exactly would Team Glazer care who Jason Licht and Lovie Smith decide to pay? It's preposterous to think Team Glazer has it out for Revis or is trying to hoard cash by getting rid of him.
It's Team Glazer who would feel the ongoing backlash of a Revis ousting. Team Glazer and staff have to answer to all the paying Bucs customers, especially the big spenders, and explain why the Bucs don't need the best cornerback in football. That's a painful pill when you just sold Revis on the fan base and marketed him in a big way. Hell, they're even selling new Revis jerseys over Mike Glennon jerseys.
Lastly, Team Glazer surely busted out the good bubbly the day they hired Lovie Smith. What a relief for an ownership group that just stomached five seasons of Raheem Morris and Greg Schiano. Joe's certain Team Glazer put its complete trust in Lovie and felt damn good about doing that and getting out of the way.
Joe sees no scenario by which Team Glazer is involved in the Revis maneuvers — other than to say, 'whatever you wish, Lovie."