Don't Mock Josh McCown
March 11th, 2014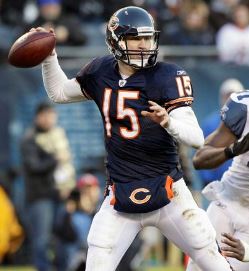 Ross Tucker is "sick" of it. The former affable former six-year NFL offensive lineman and Princeton grad is outraged and sick of the Josh McCown doubters. He is sick of those making excuses to not sign McCown. He is sick of people mocking McCown.
Tucker, who co-hosts "The Opening Drive," heard exclusively on SiriusXM NFL Radio, went off in his recent SportingNews.com column claiming McCown is clearly the best quarterback in free agency and QB needy teams (Joe understands the Bucs may fit this category) would be foolish not to pursue his services.
Tucker takes on all the common knocks on McCown, including one of Joe's talking points.
He's a product of Marc Trestman's system

On the surface this makes sense. McCown had by far his best season under Trestman's tutelage. Trestman is known as a quarterback guru of sorts and has a tremendous track record. McCown was simply the latest example.

I'll give you that.

But it still leads to one very important question: If McCown played so well because of Trestman, why wasn't Cutler able to play at a similarly high level?
Well, bratty Jay Cutler is bratty Jay Cutler, who likely doesn't need coaching up like McCown does.
Yes, Joe knows the NFL free agency rumor mill/smokeshop has the Bucs eyeing McCown. It just scares the hell out of Joe that a guy who is 34 happens to have his best year in the NFL — as a backup no less — while playing for a known quarterback guru.
When throwing cash at a quarterback who has had but one good year in the NFL, never mind his age, the name "Scott Mitchell" races through Joe's mind.