If Revis Leaves, A "Stunning End"
March 11th, 2014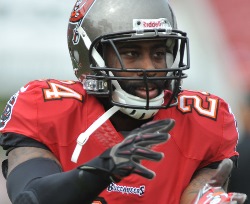 Joe was taken aback by how quickly the news cycle blew up last night when it first was learned the Bucs were aggressively looking to trade all-world cornerback Darrelle Revis. Within a handful of minutes, it went from shopping Revis to almost cutting Revis.
Now remember the person who first Twittered last night the Bucs would release Revis by 4 p.m. Wednesday is the same scribe, five days ago, who Twittered authoritatively that Michael Bennett's days in Seattle were finished. Yesterday, Bennett re-upped with the Seahawks.
Tom Pelissero of USA Today watched how the news exploded  on the 21st Century version of the AP news wire, Twitter, and came away stunned how quickly things have turned for Revis in his short time with the Bucs.
It would be a stunning end in Tampa for a player former Bucs general manager Mark Dominik acquired from the New York Jets last April for the 13th overall pick in the 2013 draft and a conditional pick in 2014.

Coming off knee reconstruction surgery that ended his 2012 season, Revis started all 16 games for the Bucs, recording two interceptions, two forced fumbles and a sack. ProFootballFocus.com ranked him as the No. 1 cornerback in the league.

Asked at last month's NFL scouting combine about Revis' 2013 performance, Dominik's replacement, Jason Licht told USA TODAY Sports: "I think he was playing through some injuries last year. It's a lot of circumstances that weren't really fair to completely judge him on what he did last year. Right now, he's an asset to our football team."
Last night, Joe felt like he was living the character of Richard Nixon in the Oliver Stone cartoon "Nixon." Upon learning the news that Revis was about to be a soon-to-be a former Buccaneer, Joe had flashbacks to that ugly horror movie "Friday the 13th: The 2012 Bucs Secondary." Joe reacted not unlike whenever Nixon learned bad news in the Stone cartoon, he would have flashbacks to his unpleasant childhood.
(Joe is convinced Stone's cartoon "Nixon" was the inspiration for hit TV series "24.")
This should be an interesting 48 hours.