Scared Of Johnny Football
March 28th, 2014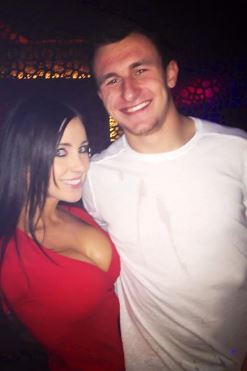 No, Joe didn't get worked up over Johnny Football's Pro Day yesterday. Joe was more impressed that former President Bush 41 and Texas Gov. Rick Perry attended and that Johnny Football wore pads and a helmet than anything else.
No, Joe didn't get warm and fuzzy over his throws. Joe's seen him do that in games. Why would Joe get giddy watching Johnny Football do the same with brooms as defenders?
But one very excited person was Joe's good friend Justin Pawlowski of WHFS-FM 98.7. Just like another of Joe's fine friends in the local media, "The Big Dog," Steve Duemig of WDAE-AM 620, Justin has been loudly banging the drum for the Bucs to draft Johnny Football.
But Justin, like Joe, catches all sorts of hell for even suggesting that. It is so confusing to Joe that the only thing Joe can think of why Johnny Football has so many haters is that they are jealous they couldn't pull in college like Johnny Football. The loathing makes no sense.
But Justin believes it is not just loathing, but fear and loathing that Bucs fans have about Johnny Football. In fact, Justin has come to believe Bucs fans are scared of a quarterback succeeding for the Pewter Pirates, and that Johnny Football, in particular, downright frightens the hell out of Bucs fans.
I'm not sure why some fans are so scared of stardom, but I know that the teams that win the Super Bowl each year are loaded with star players. The Bucs are very limited in this category right now. Manziel is a star before he's even played a snap in the NFL, so why not ignite the fan base and the organization by bringing that star to Tampa?

Lovie Smith's defense combined with Manziel's playmaking and touchdown-making ability will make the Bucs relevant again, and make the Bucs must-see TV for the 1st time in a very long time.

Continue to be scared if you must, but as I said nearly three months ago, it is time for the Bucs to make a bold move with their franchise. Johnny Manziel would be that bold move if available to the Bucs in the draft.
Joe thinks Justin has nailed it with the Jeff Tedford connection. Tedford already has a proven resume with building quarterbacks. Imagine what he could do with a guy that is so multi-talented as Johnny Football.
Not sure how many watched Johnny Football with Chucky last night. And Joe knows that it is a made-for-TV, BSPN event. But the one Chucky line Joe loved was, "For all the people that claim you can't read defenses, they can kiss my @ss because I've seen you do it!"