Matching The Passion Of Bucs Fans
March 27th, 2014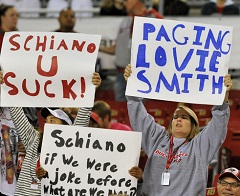 On multiple occasions, new Bucs general manager Jason Licht publicly has said he's been struck by the intensity and passion of the Buccaneers fan base since he was hired.
Considering Licht's career has taken him to New England and Philly, that's rather noteworthy.
Joe agrees. Bucs fans are a passionate lot, but they're a rather bizarre bunch, too. Legions of fans, per Team Glazer, wanted Jon Gruden ousted with three years left on his contract, prompting the owners to act swiftly in 2008. Fans refused to embrace the playoff-hunting, 10-6 Bucs in 2010, the youngest team in the NFL with a dynamic quarterback. Last year, "Fire Schiano" was trumpeted in the streets while the Mike Glennon Mob was forming.
And if that's not enough bizarre passion for you, tens of thousands of Bucs fans stay informed via a third-person blog written by some mythical guy named "Joe."
It's a Bucs life — and we love it.
In this video below with ProFootballTalk.com, Licht sits down with Mike Florio to talk about Bucs fans, his favorite two additions in free agency, and much more. Enjoy.