Report: Josh McCown Is En Route
March 11th, 2014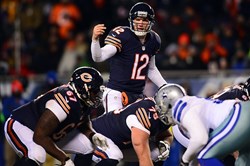 Joe wrote many days ago the Bucs would pounce immediately on Josh McCown, the journeyman quarterback turned super hero in this down year for free agent QBs.
Per the Twittering of Jason La Canfora of CBS Sports, Mc Cown is heading to Tampa to meet with the Bucs now that the free agency bell has rung.
Joe's only question is whether McCown is on that fancy Team Glazer (rented?) private jet used for big-money free agents the past couple of years. Does McCown get that kind of royal savior treatment?
Like La Canfora, Joe expects McCown will sign within minutes of his arrival.