Eric Page Re-Ups With Bucs
March 11th, 2014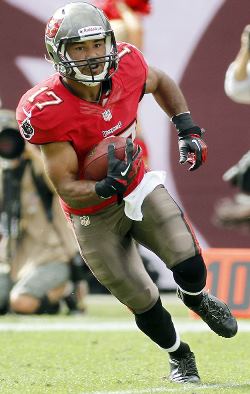 The Bucs appeared to address their kick/punt returner issues this afternoon if Instagram is to be believed. At least, Eric Page's Instagram account.
Per Greg Auman of the Tampa Bay Times, third-year pro Eric Page has inked a deal to remain with the Bucs.
@gregauman: Bucs WR/returner Eric Page posts on Instagram that he's signed a 1-year contract to stay in Tampa. Was an exclusive-rights free agent.
It is a good thing the Bucs have, at worst, solidified their return game by keeping Page. He had above-average stats last season among his fellow full-time returners. Also, it effectively was Page's rookie season, as he blew out his ACL in August 2012 with the Broncos. Page made rookie mistakes but flashed plenty of talent and is only 22 years old.
But with Dexter McCluster still (reportedly) out there and so too Devin Hester (reportedly), Joe doesn't think the Bucs are finished shopping for another return man.