No More Byrds For Bucs
March 3rd, 2014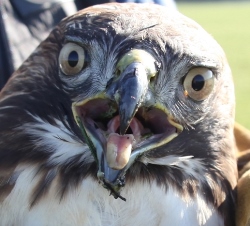 Do the Bucs need another big-name safety?
The esteemed fight-instigating, barista-training, pedestrian-bumping, olive oil-lapping, popcorn-munching, coffee-slurping, fried-chicken-eating, oatmeal-loving, circle-jerking, beer-chugging, cricket-watching, scone-loathing, college football-naïve,baseball box score-reading Peter King, of NBC Sports and Sports Illustrated fame, sure thinks so.
6. I think if I'm guessing where Jairus Byrd lands—assuming he's not tagged by the Bills—I'm guessing Tampa Bay. His dad, Gil Byrd, is an assistant coach in the secondary for the Bucs. Not many instances of father coaching son in NFL history.
This is quite a head-scratcher.
Dashon Goldson is one of the few Buccaneers with a guaranteed paycheck for 2014. He's not going anywhere. And neither is third-year safety Mark Barron, who, hopefully, will have the breakout year Bucs fans have been waiting for since he was drafted with the No. 7 overall pick in 2012.
Does King not realize this, or that Byrd may have already turned down $10 million a year from Buffalo?
Perhaps King is unaware that Lovie Smith is not Greg Schiano. Lovie absolutely will not build the Bucs defense from the back to the front.