Spence Pleads Not Guilty; Trial Set For April 14
March 3rd, 2014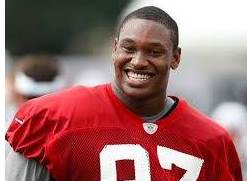 Akeem Spence's legal woes will linger after the start of Bucs offseason workouts on April 7.
In January, the 2013 starting defensive tackle alongside Gerald McCoy was hauled to jail by Alabama State Troopers after a late morning drive. Spence was alleged to be cruising at 100+ miles per hour with marijuana in his car.
Spence had a court appearance on the Escambia County (Alabama) docket today to enter a plea. His attorney filed paperwork in advance and Spence was not required to be there, Joe was told today by local officials. A "bench trial" for Spence was scheduled for April 14.
It's small-town America personified in Brewton, Alabama, the county seat of Escambia. The county is about 100 square miles with a population hovering around 38,000. Local officials apologized to Joe for not having the funds to put their court information online.
Spence's charges are misdemeanors and punishable with up to one year in jail, though he'll likely get slapped with a fine.
Joe's confident Spence will be wearing the Bucs' new uniform come September, not an orange jumpsuit.