Man Of Few Words
March 14th, 2014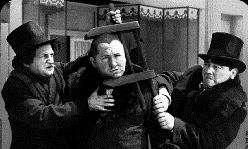 It was kind of cool for Joe to meet the Bucs' first wave of new players Wednesday. Each one was at ease mingling and chatting and joking around with the Bucs' pen and mic club. All seemed like really cool guys, especially Michael Johnson.
(Funny aside: Joe was listening to Bucs general manager Jason Licht when Joe turned to web mistress Dory LeBlanc of WDAE-AM 620 asking if she noticed where Johnson may be. Joe had no idea Johnson, all 6-7 of him, was behind Joe and overheard him. "Man!" Johnson busted out laughing, "how can you miss me?" Johnson then spoke with Joe for what seemed like 20 minutes and likely would have spent the entire afternoon with him if not for prior team-related appointments.)
The same continued yesterday with Bucs starting quarterback Josh McCown. But tackle Anthony Collins? He had to be pried and prodded to talk a little. He's a good dude and confessed why he doesn't talk much and why Bucs fans won't be finding many quotes from him.
"For what? What do I need to talk about? Collins asked unable to hide the large smile on his face. "I feel like I have to protect that man [McCown] with all my heart. I will let him call the audibles. I will let him talk. I just need to protect him."
Collins went on for more than three minutes talking about how Bucs coach Lovie Smith was a big draw as was his friend and ex-Bengals teammate Johnson. Of all players that Joe dealt with the past few days, none seemed to want to snap on a chin strap and start hitting people more than Collins.
"I'm motivated, yeah," Collins said. "This is my first starting job. As a starter. So I am very motivated and ready to get to work."
As for Lovie, Collins said, "He gives you a family feeling and he is true to you. The first thing he said to me was 'I am going to be true to you. Good, bad, ugly, great; I'm going to be true to you.'"
To hear more from Collins, click the little orange button below, courtesy of Joe's co-conspirators at WDAE-AM 620.