Optimism Surrounding Carl Nicks
March 14th, 2014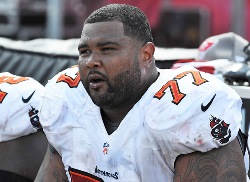 Yes, the Bucs re-signed guard Jamon Meredith, who played great starting on the right side for departed Davin Joseph in 2012, but Meredith wasn't special when he started the half of 2013 for the human armoire, left guard Carl Nicks.
Versatile Jeremy Zuttah remains on the roster, but it's worth noting that so far the Bucs haven't moved to replace Nicks.
General manager Jason Licht expressed optimism for Nicks yesterday, explaining vaguely that Nicks is working daily on rehab and the team is encouraged. What Nicks is actually capable of physically performing right now is a mystery.
Nicks has post-surgery foot issues that will never go away. Those are from his first surgery (2012) in a Bucs uniform. The lingering damages/challenges surrounding his fall MRSA surgery on his foot are unknown.
The Bucs owe Nicks a pile of cash this season and nearly all of it is guaranteed if he's injured, which he is. 
At least there's optimism surrounding Nicks. A close friend of Nicks told Joe in October that Nicks was doing very well and definitely was expected back on the field in November. That never happened.
Joe expects the Bucs to sit tight and see where Nicks' body is in a couple of months. It's easy to forget, but Nicks is a punishing, All-Pro presence, and he's still young. He's worth waiting for, assuming there's legitimate hope for his 2014 performance.