Josh McCown = Rich Gannon?
March 19th, 2014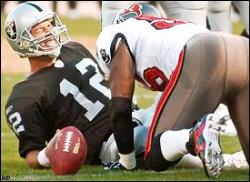 Clearly when the Bucs signed the former Bears quarterback, journeyman Josh McCown, they had visions of his 1,829 yards in eight appearances last year dancing in their heads. But was that just a fluke or a harbinger of things to come?
The fluke element is a fair question, given that McCown is 34 and rarely had played like he did for Bears quarterback guru Marc Trestman. McCown explains that Trestman opened his mind and his eyes to things he never was aware of before — things he has brought to the Bucs. Those are also fair points.
So Joe wonders whether it is too quick to label McCown the next Rich Gannon?
The former NFL MVP with the Raiders, the same quarterback the Bucs throttled in their last playoff win, the Super Bowl victory in January 2003, and the same quarterback who had his career ended by Derrick Brooks, was like McCown, a journeyman who showed little of the star quality he displayed before Chucky got a hold of him in Oakland. Gannon, though, was 31-27 as a starter before landing in Oakland; McCown is 16-22.
But Pat Kirwan sees similarities. The former Bucs scout, Jets linebackers coach and player personnel director, and current co-host of "Movin' the Chains," heard exclusively on SiriusXM NFL Radio, typed a notebook column for CBSSports.com and believes, yes, McCown very well could be the next Rich Gannon.
Josh McCown is now the starting quarterback for the Buccaneers and he is starting to sound like Rich Gannon did when he and Jon Gruden were united. McCown is 34 and realizes it's now or never for him. But what has gone unnoticed is what a mentor he will be to Mike Glennon or whoever the team drafts.

"I've been in the same place Glennon is right now and I will encourage him to compete for this job so he makes me and this team better," McCown said.
Only time will tell if McCown performs anywhere near what Gannon did with the Raiders. Joe thinks it is foolish to believe McCown can be an NFL MVP. That's really jumping the gun. The key here, of course, is Bucs offensive coordinator Jeff Tedford.
Tedford has a documented history of building quarterbacks — in college. Tedford has never coached in the NFL before. He's not Chucky (yet). Though we are starting to get a picture of what the Bucs offense may be, expecting McCown to be an NFL MVP with an unproven NFL coordinator is a reach.