Brandon Myers: Lovie's "Top Of The Chart" TE
March 19th, 2014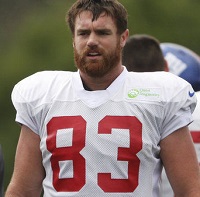 New Bucs tight end Brandon Myers is hardly a talent familiar to Tampa Bay fans, especially those who don't play fantasy football. But it's time Bucs fans get used to him.
He's Lovie Smith's No. 1 tight end, Lovie said. 
In a recent chat with Scott Smith of Buccaneers.com, Lovie revealed another nugget of his free agency philosophy. Essentially, Lovie doesn't chase backups when the free agency dinner bell rings.
Lovie said Myers is in place "to really fill that void on the offensive side" and he's the go-to guy out of the gate.
"As a general rule, I think, when you go into free agency and you're bringing in veteran players, you shouldn't be looking for a lot of backups," Lovie said. "We wanted players that could come in instantly and give us something.

"We talk about starting rotations, and most of the free agents we're bringing in will be at the top of the chart with our starting rotation. Josh McCown, of course, is one. Brandon Myers, and you kind of go down the list."
There are a couple of things in play here. While Joe is confident Lovie will play his best players on gameday, Tim Wright or anyone else, part of recruiting free agents is promising them top-dog status. It's their job to lose.
Heck, Anthony Collins was introduced to the media as the Bucs' new starting left tackle. Josh McCown was vocal about how he wanted to go to a team that would give him the ball. It's reasonable to think that part of the sales pitch to the Bucs' new tight end and other expensive guns was immediate starter status.
Myers, 28, has five seasons under his belt and 126 catches over the past two. He's not much of a blocker or a speedster. But he's a good football player.
Anyone with their eyes open saw that Wright was a special rookie last season. He's fearless with good hands and he plays bigger than his size. Joe's pulling for the Rutgers man.
The talent among Bucs tight ends will test Jeff Tedford's ability to put the right pieces in the right places at the right times. Of course, there's always the strong likelihood Tedford consistently will use two receiving tight ends in his "up tempo" offense.