Four-Team Race If…
March 6th, 2014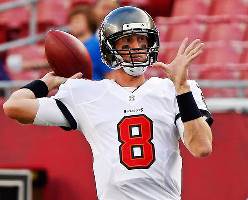 Joe knows that quarterback is a divisive position on the Bucs. Whether it was leaky Rip Van Freeman or Mike Glennon, nothing short of uniforms gets Bucs fans worked up more than talking about quarterbacks.
Of course, there is the Mike Glennon Mob who believes the youngster is the second-coming of Brad Johnson, though Joe cannot remember when Johnson led the 32nd-ranked offense.
Joe has been pretty straight-forward: It is a helluva lot of swimming upstream to make the playoffs when you have the No. 4 quarterback in a four-team division. Even legendary personnel man Gil Brandt agrees with Joe.
Could Glennon be that guy? Sure. That doesn't mean Joe believes Glennon should be knighted with the starting quarterback gig, not after leading the worst offense in the NFL. Shouldn't a halfway decent quarterback be able to raise the level of his teammates just a little bit? You know, like maybe an offense ranked No. 31? Joe doesn't think that is such an unreasonable standard.
It seems the NFL crowd at the four-letter agrees that unless something happens at quarterback, whether Glennon raises his game or the Bucs find a better solution, the NFC South is a three-team race.
The uncertainty is in Tampa Bay, where the Bucs are looking at Mike Glennon, who did some nice things as a rookie but still lags behind Brees, Ryan and Newton. The Bucs have the nucleus of a good defense, but they need some stability at quarterback to make their offense click. If they can get that — they have made noise about drafting a quarterback or signing a veteran free agent — they might be able to make the NFC South a four-team race.
Look, Glennon has all the intangibles you could want at quarterback: works his rear end off, is singularly focused, team-first kind of guy, all-around good dude. But at the end of the day, the NFL is a results-oriented business, not Pop Warner football where guys get to start because of their heart.
And frankly, no, the No. 32-ranked offense in the NFL is not considered by any coaching staff or ownership group as the desired results. Unless you are shooting for the first pick in the draft.