Too Much Of A Rutgers Feel
March 6th, 2014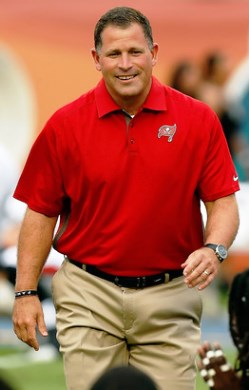 Yes, the Bucs uniform chatter hasn't died down much since they were unveiled Monday. And one would have to search long and hard on the interwebs to find a positive critique (short of perhaps a NIKE employee).
It's no surprise that ornery Alan Dell of the Bradenton Herald is no fan of the uniforms. And while some focus on the CFL-like different colored shoulders or the alarm-clock-number font, Dell's criticism comes with a unique angle.
Dell believes the new Bucs uniforms look too much like Rutgers' and believes former Bucs commander Greg Schiano — who Dell despised and had an ax to grind with from his first day as head coach — had a hand somehow in the design.
But this Rutgers reminder, no matter how small, cancels all celebrations.

Rutgers reminds us of Schiano, the Scarlet Knights head coach for 11 years before he traveled south to replace Raheem Morris.

And Schiano?

He reminds of MRSA, scandals, back-door knifings, comical game schemes and Lawrence Tynes' wife flinging harpoons hoping one will land on Schiano's foot.
Now Joe has no idea what type of knifings Dell is referring to but, geez, some people actually are of the mind Schiano himself snuck into One Buc Palace in the dead of the night and planted the MRSA in the Bucs locker room. To Joe, linking Schiano to MRSA is akin to blaming the source of your cold on Obamacare.
As far as the new uniforms, Joe can't help but think of "24" when looking at the numbers font. Joe just hopes at the end of Bucs games there isn't a silent clock.