Donald Penn Blasts Bucs' New Regime
March 20th, 2014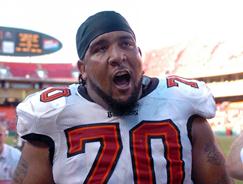 One selling point in the recent sales marathon at One Buc Palace was noted by Bucs general manager Jason Licht. He expressed that free agents have so much respect for head coach Lovie Smith. One player who isn't in that club is Donald Penn.
The former Bucs left tackle and current Raiders offensive lineman took to the SiriusXM NFL Radio airwaves last night, just a few hours after inking his new deal with the Raiders, and under no uncertain terms let it be known how angry he is at Smith and Licht for booting him.
It wasn't so much that Penn was released that irked him. Penn admitted that is part of the "business." But what rankled Penn was how his release, after eight hard years of work and over 100 consecutive starts, was conducted as if he was a lowly landscaper at One Buc Palace.
To hear Penn speak, Licht never even attempted to reach out to Penn's camp in order to rework his contract  and allow Penn a chance to remain on the team, so Penn told Alex Marvez and Gil Brandt, co-hosts of "Late Hits."
"The way Tampa did me left a bad taste in my mouth," Penn said. "I kind of wish they were on the schedule, but they are not. I still appreciate my eight years there. I appreciate the owners and everyone that gave me a great opportunity. I built a relationship there. The way they did it at the end, it wasn't right in my book.

"I'm a grown man and they could have treated me like a grown man. It's part of the business and there is a way to do business but I didn't like the way that they did it. … I've talked to Lovie twice since he's had the head coaching job and that was a month before free agency started. I talked to the o-line coach [George Warhop]; I talked to the o-line coach about two weeks before the start of free agency started and everything was great. It was good. They were telling me they looked forward to working with me.

"Then I start seeing all of these reports that they are bringing in [Anthony] Collins for a visit. It is still in my head that they are bringing Collins in to play a different position because they had cut Davin [Joseph]. Then, that morning, the day they cut me, my phone was blowing up, that Collins agreed to a deal and how did I feel about that? I didn't say anything because I didn't know anything. I hadn't heard anything from the Bucs."
In fact, Penn said, it wasn't until roughly 10 minutes before the Bucs held a press conference introducing Collins to the area that he learned he had been cut. The full details are in the recording below by just clicking on the orange arrow.
Also, Marvez asked Penn if he was going to lobby Raiders owner Mark Davis and Raiders' brass to bring in Josh Freeman as the next Raiders' quarterback, Penn chuckled and punted on the question.