Dietrich-Smith On The Rise
March 25th, 2014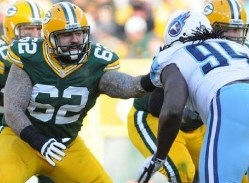 Two things jumped out at Joe after a modicum of research on new Bucs center Evan Dietrich-Smith.
The first thing that crossed Joe's mind was when Bucs general manager Jason Licht was hired, he emphasized "value" in acquiring free agents.
Also, when speaking last week on SiriusXM NFL Radio, Dietrich-Smith mentioned Packers quarterback Aaron Rodgers was upset he left the team.
You know, most quarterbacks don't give a rat's rear end if a guy who can't block leaves. Good riddance. But a guy who can block, quarterbacks want those guys to stick around. Apparently, Rodgers has good reason to be irked. Here's an analysis from Matt Claassen of Pro Football Focus on Dietrich-Smith's first year, last year, as a starting center for the Packers.
Evan Dietrich-Smith is coming off of his first season as a full-time starter at center after starting the last few games in 2012 for a declining Jeff Saturday. Dietrich-Smith graded out as an average run-blocker, which was a slight improvement over 2012. His jump in pass blocking was more significant. He did give up five sacks, but only allowed nine other pressures all season to finish with our fourth-highest pass blocking grade among centers.
From the way Rodgers reacted to Dietrich-Smith leaving the Packers and how Licht looks for value, it seems the Bucs may have gotten themselves a center very much on the rise.