"Manziel Scares Me"
March 25th, 2014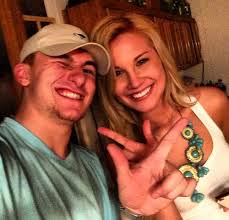 The chronic condition known as Johnny Football fear seems to be contagious in NFL circles.
NFL.com reporter/feature writer Albert Breer dove deep into the risks of overvaluing a quarterback in the NFL Draft in his most recent work, and it's noteworthy that two of his sources give identical takes on the young man who could revolutionize Buccaneer football.
Joe recommends the entire story linked above, but in the excerpt below, you'll catch the full effect of the Johnny fear.
The hit rate on first-round quarterbacks has never been near perfect, but as the importance of the position has ascended, the bottom has dropped out on the percentages. Nine quarterbacks were drafted in the first round from 2009 to 2011. Four of them (Mark Sanchez, Josh Freeman, Tim Tebow and Gabbert) have been jettisoned by their drafting teams, and two of those guys are among the four (Sanchez, Tebow, Newton, Matthew Stafford) who have started playoff games among the group.

The risk of failure is high in any year. And there are more questions this year than most.

"Just average," is how one NFC personnel exec described this QB class. "The kid from Central Florida (Blake Bortles) has a chance to be really good. (Johnny) Manziel scares me — he's 50-50. (Teddy) Bridgewater reminds me a little of Byron Leftwich, in that he's a little soft. (Derek) Carr's just good. You take one of them in the third round, you're happy with that. The problem is, if you really want one of these guys, you almost have to take them in the first."

Several high-level evaluators said four players appear to stand out in this year's class: South Carolina defensive end Jadeveon Clowney, Buffalo outside linebacker Khalil Mack, Auburn offensive tackle Greg Robinson and Clemson receiver Sammy Watkins.

The NFC personnel exec opined that Bortles, if given a pure grade based on his potential, would probably fall in a cluster of eight or so players behind those top four. The rest, he said, might not be any better than second-round talents.

But quarterbacks almost always get overdrafted — mostly when a team likes a guy enough, and then gets fearful he won't last long enough for the club to play it patient. And so it seems a good bet someone will be rolling the dice in May on a player many others aren't sold on.

 "I'm a big Blake Bortles fan — he has the 'it' factor in the way he carries himself. I can see that helping him succeed, and he can probably still gain 20 pounds," one AFC offensive coordinator said. "The other guys I'm really scared of. I didn't like Bridgewater before the workout and I don't like him after it. With the free time he'll have, and the offseason there is at this level, Manziel scares me. It's tough."
Joe's not scared by Johnny Football. Regular readers here know Joe's more scared by the thought of the Bucs passing on Johnny Football, or passing on a quarterback altogether come May.
Perhaps the past 5 1/4 seasons of Buccaneer football (28 wins and 56 losses) have emboldened Joe. Bucs fans who survived those shouldn't be afraid of landing a multi-talented, young quarterback. That almost sounds silly.