Bucs Trying To Rework Revis Pact
March 10th, 2014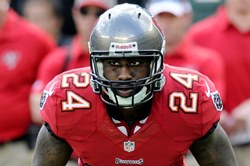 Now this makes sense to Joe. Yes, Twitter has totally blown up this evening with the news that the Bucs were looking to trade all-world cornerback Darrelle Revis and, minutes later, seemed on the verge of cutting Revis.
One of two Bucs to play in January's Pro Bowl, Revis has a monster contract that the Bucs, if reports are true, don't like. But the contract also means few if any teams can afford Revis.
So it seems cooler heads are also involved here, as Woody Cummings of the Tampa Tribune Twittered out the Bucs have another option aside from trading or cutting Revis.
@RCummingsTBO: The Bucs are actively trying to trade CB Darrelle Revis, while also trying to rework his contract, league sources tells the Tampa Tribune
This seems logical and rational. Revis can still be the NFL's highest paid cornerback, but the Bucs would get salary cap relief. Since Bucs coach Lovie Smith is so well respected around the NFL, hopefully he can charm Revis into staying, but at a lower price that still feeds his ego (and checking account) since Revis could still be the highest-paid corner in the land.
Joe just doesn't even want to think about the moon crater in the secondary with Revis gone. Does the 2012 sequel "Friday the 13th: Nightmare in the Bucs Secondary" seem like a fun movie to revisit?