Revis To Be Released?
March 10th, 2014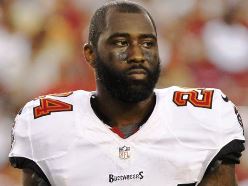 Rumors have been flying the past 20 minutes or so and are now into a five alarm fire mode with the immediate future of Bucs all world cornerback Darrelle Revis. First it was the Bucs were uncomfortable with Revis' contract, then it was the Bucs were pushing to trade him, and now the Bucs are going to release him.
That's the word from NFL insider Adam Schefter of BSPN who just Twittered out that Revis' days with the Bucs are numbered not by days, but by hours.
@AdamSchefter: Short of a trade in the next two days, the Buccaneers are expected to release CB Darrelle Revis by 4 p.m. Wednesday, per league sources.
Right now Joe doesn't know what to believe but cutting Revis seems beyond drastic. If Revis is indeed unloaded, then you can add a crater at cornerback that needs to be filled. Along with (possibly) two offensive guard positions. And a No. 3 receiver. And of course, the always swing-and-a-miss at grabbing an edge pass rusher.
Oh, and that No. 13 pick last year and a draft pick for Revis this year? Wasted. Thrown away.