Dominik Speaks Out On Revis
March 10th, 2014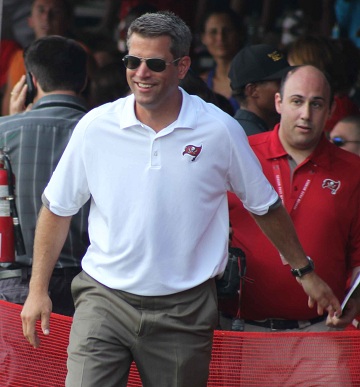 The man indirectly responsible for the current Darrelle Revis mess, former Bucs rockstar general manager Mark Dominik, spoke out tonight on SiriusXM NFL Radio and praised the flexibility of the Revis contract and how he structured it so they could walk away painlessly if necessary.
However, Dominik didn't really acknowledge that pesky detail of forking over a valuable 2013 first-round draft pick and a 2014 third- or fourth-round pick for Revis.
You can catch a five-minute audio cut of Dominik below with Late Hits hosts Gil Brandt and Alex Marvez.
Dominik talks about how the Bucs could adjust Revis' 2014 salary to a $13.5 million salary bonus and "create cap room," and he dives into Revis' performance last season. Dominik said the Thursday night game against Carolina was the turning point for Revis' Pro Bowl season.
All the chatter aside, the Bucs are either disinterested in Revis or are trying a squeeze play to get Revis to renegotiate his deal, likely cutting his $1 million per game salary at least 25 percent. Joe's betting Revis isn't afraid to play chicken. The guy won multiple contract battles with the Jets and knows he'll find a new, welcoming home and plenty of guaranteed money.
Damn, Joe hopes this ends well.